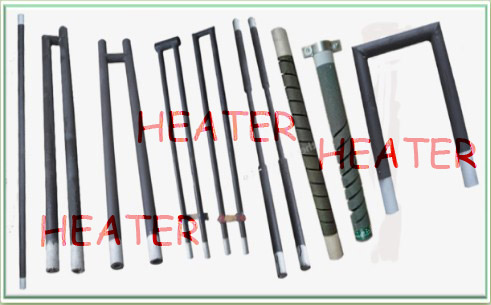 Type:
Sic Heating Element
Name:
Introduction of Torch Furnace Sic Heating Element
View:
Introduction of Torch Furnace Sic Heating Element Description:
Torch Furnace silicon carbide heating element is a kind of non-metal high temperature electric heating element. It is made of selected super quality green silicon carbide as main material, which is made into blank, solid under high temperature and re-crystallized.
Torch Furnace silicon carbide heating element is a kind of non-metal high temperature electric heating element. It is made of selected super quality green silicon carbide as main material, which is made into blank, solid under high temperature and re-crystallized.
We are manufacturer who works with everything from the raw material to the finished products.
Torch Furnace element adopts traditional crafts with 25 days-cycle.
Torch Furnace element is measured resistance twice to ensure accurate resistance during the production processing.
Torch Furnace elements give you silicon carbide resistance heating at its best.
Why choose our Sic heating elements?
Product reliability
High resistance to thermal shock
Great resistance to oxidization, detrimental conditions and contaminations
Long service life
Uniform aging characteristic
Less increase in resistance
Ease of replacement
Great power potential
Up to 30 W/cm² surface load
High power density within limited space
Fast heat up
Temperature Flexibility
Operating temperature range from 600°C to 1500°C
Rigid element throughout usage life
Allow ease of installation
Excellent hot strength & Dimensional stability
Torch Furnace silicon carbide exists only as a solid, has no liquid phase, and as a result, will not plastically deform at any temperature.
Technical Data
Electrical characteristics
Sic heating elements has rather large specific resistance. When it is heated in air and the surface temperature of the hot zone reaches 1050℃, its resistance rate is 600-1400 mm2/m. Its resistance value changes as the temperature rises. From room-temperature to 800℃ is negative value, over 800℃ is positive value nature curve.
All silicon carbide elements gradually increase in resistance during their life in operation and the rate at which this occurs is affected by the following factors:
• Element type
• Element Specific Loading (W/cm2)
• Operating Temperature
• Process Atmosphere
• Mode of operation - continuous or intermittent
• Operating practice
Chemistry Characteristics
1). Antioxidant property of elements
The element start to being oxidized when heat to 800℃ in air,and a SiO2 protect film will be generated in surface of hot zone when temperature get to 1000-1300℃,cristobalite will be crystallized at 1300℃,the protect film get to a certain thickness when the temperature get to 1500℃ which make the oxidation speed being very slowly to stable.If continue to heat to over 1627℃,the protect film will be damaged and oxidation speed will be more rapid evidently and make the element damaged earlier. Thought the element will be oxidized very slowly in course of application, it also will make the resistance increased following long time application, this phenomenon calls ageing.in oreder to lower the ageing speed ,we use special technology to spread a protect film on the surface of hot zone in the course of production, which enhance the Antioxidant property of element evidently and lengthen the service life.
2). The effects of alkali and alkaline metal oxide to elements
The alkali&alkaline metal oxide will react with SiC at about 1300℃ and generate silicate,which calls alkali-chemical corrosion ,and can influence the glowing of element.
3). The effects to elements from melting metal
Some metal, such as cobalt,nickel,chrome and so on,can corrade the elements in high temperature melting state and affect the service life of element.
Installation and Operation of Element
1) In order to keep furnace temperature and the load-bearing uniform of each element, before installation, resistance distribution must be carried out. The resistance value deviation of each group should be below 10%.
2) As the element is very brittle, be careful while install and maintain to avoid any damage.
3) When start to operate the furnace, raise voltage slowly and gradually, never give full load at one time, or the heating element will be damaged by over current impulse.
4) To use the elements, you should prepare the adjustable transformer or silicon controlled transformer, voltage meter, current meter and auto control temperature meter etc. During the working, the voltage should be increased to maintain the furnace normal temperature because the resistance value will go up gradually caused y the oxidation of element. When the voltage gets to the up limit of the requirement, the furnace should be stoopoped, change the way of wire connection and then continue work.
5) In the course of long operation of the furnace, if any individual heating element is damaged owing to certain reasons and should be changed, you should replace it with proper one whose resistance value corresponds to that of the old one, never use a new heating element random. If the heading element is much damaged or its resistance value increases too much and cannot reach the furnace temperature, it is better to replace the heating elements with mew ones. Test and mark the resistance value of the old elements having been replaced (with voltmeter and ammeter) and distribute them in low temperature area.
6) Before the new furnace of the furnace that has not been used for a long time is used, they must be dryinged. When drying them, it is better to use old elements or other heat source.
7) When firing appatatus or material, if there is water ejection, the furnace should have holes to eject water vapor or other waste gases in order to protect the elements service life.
Control of applied temperature and surface load of Sic heating elements under different
Atmosphere

Furnace Temp(℃)

Surface Load

(w/cm2)

Acting to the element

Solve way

Ammonia

1290

3.8

Acting on Sic to form thus decrease SiO2 protective film

Active at dew point

CO2

1450

3.1

Attack SIC

protected by quartz tube

18% CO

1500

4.0

NO

action

-----

20% CO

1370

3.8

A

d

sorbing Cgrains to act on SiO2 protective film

-----

Halogen

704

3.8

Adsorbing Cgrains to act on SiO2 protective film

protected by quartz tube

hydrocarbon

1310

3.1

Adsorbing C grains causes hot pollution

fill with enough air

Hydrogen

1290

3.1

Acting on SiC and decreasing SiO2 protective film

Active at dew point

Methane

1370

3.1

Adsorbing C grains causes hot pollution

-----

N

1370

3.1

Acting with SiC forms SiN insulating layer

-----

Na

1310

3.8

Attack SiC

protected by quartz tube

SO2

1310

3.8

Attack SiC

protected by quartz tube

Vacuum

1204

3.8

-----

-----

Oxygen

1310

3.8

SiC is oxided

-----

Water

(different contents)

1090-1370

3.1~3.6

Acting on SiC forms hydtate of Si

-----
Several power calculation ways for wire connection in common use
Connection

way

Symbol

Element Qty

(no.)

Phase Voltage

(V)

Phase Resistance

(Ω)

Phase current

(A)

Total power

(kw)

Single phase series connection

+

n

Ux=U

Rx=nr

Ix=U/(nr)

Nx=U2/(103nr)

Parallel phase connection

=

n

Ux=U

Rx=nr

Ix=Un/r

Nx=nU2/(103r)

Angle connection

â–³

n

Ux=U

Rx=n

Ix=U/R

Nx=3U2/(103r)

Star connection

Y

n

Ux=U/3 ½

Rx=n

Ix=Ux/Rx

Nx=U2/(103r)
order

Torch Furnace silicon carbide elements are specified as follows
Element type: ED type
Outer Diameter: OD mm
Hot zone length: HZ mm
Cold end length: CZ mm
Overall length: OL mm
Nominal resistance, Ω
Specify as: OD*HZ*CZ*A*OL*RESISTANCE